Lang erwartet, jetzt endlich für alle zu haben!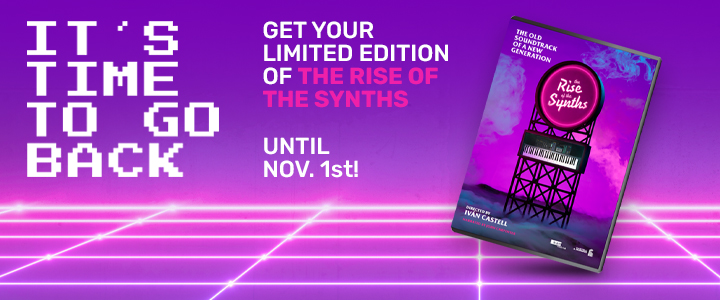 The Old Soundtrack of a new Generation
Who does not remember the haunting electronic music of John Carpenter's Halloween, or Brad Fiedel's dark, remorseless theme from The Terminator, with its threat of emergent technology?  Or perhaps Vince DiCola's uplifting and energising beats from Rocky IV?  All highly effective synthesized scores that stayed with you for days, weeks, even years!
We are in the midst of a true 80s revival in cinema, TV and music. Films such as Drive, It Follows, Ready Player One, Wonder Woman 1984 and TV series like Stranger Things and Glow, among others, show a definite nostalgic trend. Is this a random revival or an emerging cultural phenomenon?
The Rise of the Synths follows a group of composers from different countries who, in the mid 2000's, unknown to each other but with the help of Myspace and social networks, spontaneously created an underground music scene known as Synthwave. It was the first time the Internet gave birth to a real music scene.
So what is Synthwave?  Defined as modern electronic music heavily inspired by the music, soundtracks and pop culture of the 1980's, it is an irresistible blend of nostalgia and music; of creative processes and cultural references; of re-appropriation and legitimate creation.
With a definite DIY style, many of these composers remained anonymous and faceless in an attempt to always put the music first. Many had no musical education but the Internet provided the platform to upload works made in their free time on home computers. It was their hobby – no rules, no leaders – and they flourished more or less underground.
Narrated by iconic director and composer John Carpenter, The Rise of the Synths is a journey back and forth in time, from the roots of the scene to its impact on today's pop culture. Exploring a secret world, populated by some of the last rebels on the Internet, the film asks various questions, including: «Why now, this nostalgia for the 80s? Where does it come from? And what will become of it?"
With Synthwave threatening to burst into the mainstream, and nostalgia for the 80's greater than ever, there's been no better time to journey back and see where it all began!
Click the banner to get your copy now!